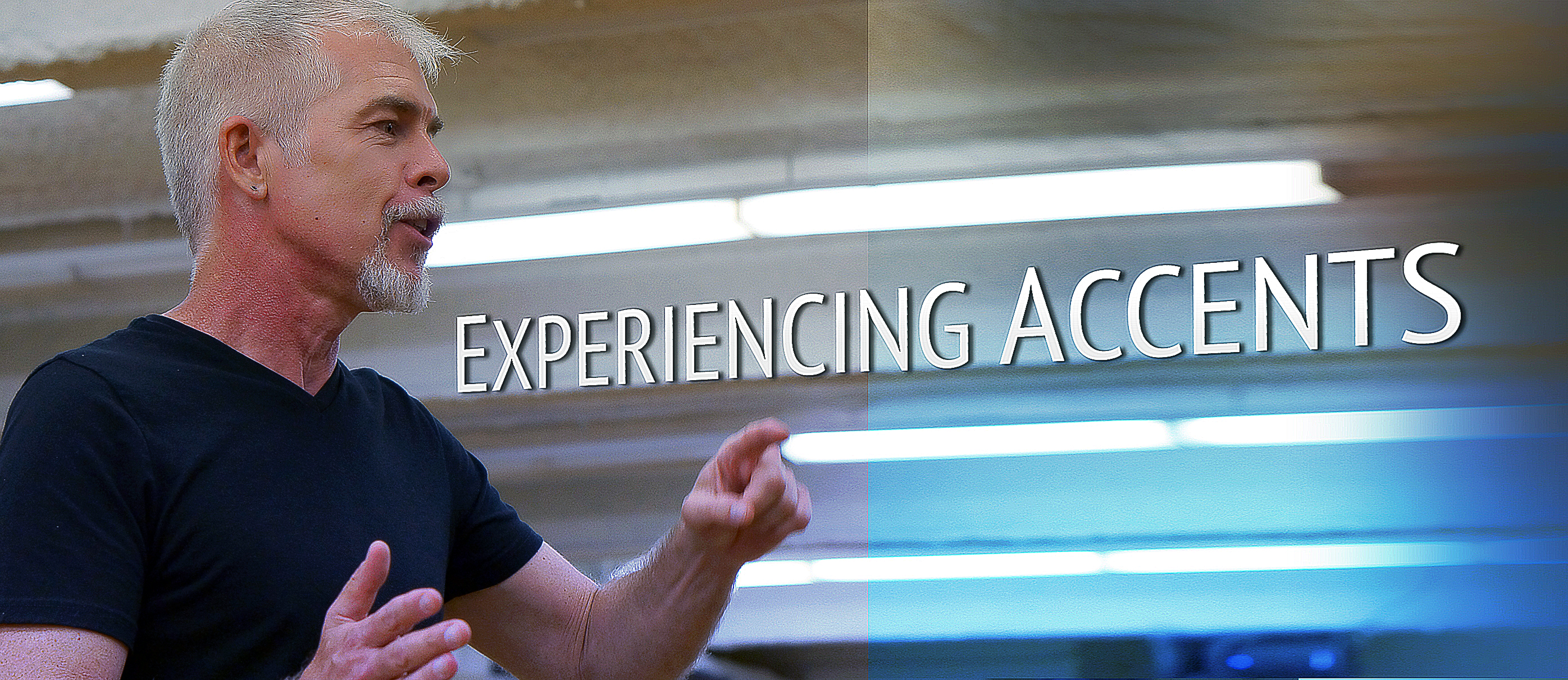 EXPERIENCING ACCENTS
(Prerequisites: Experiencing Speech, Phonetics Intensive)
This intensive six-day workshop carries the techniques of the previous workshops into the acquisition of accents.  This takes the KTS methodology from its focus on increasing awareness through a descriptive approach, to looking at a specified set of accent features as a prescriptive target. What keeps this shift to the prescriptive from becoming limiting for performers is our focus on skill building. Grounding the work in physical experience and rigorous description of speech actions prepares us to feel, hear, analyze, and execute the features of an accent. The use of improvisation and playful exploration throughout the workshops keeps us connected to the fluent, performative skills of the actor.
---
PART ONE
Three days
Review of essential concepts and skills from Experiencing Speech and Phonetics Intensive
Overview of accent methodology
Exploration of the skills of each part of the KTS approach:

People
Posture
Prosody
Pronunciation.
BREAK
We take a day off between the first and second parts. This is a chance to rest and process information, and to do a little preparation for final accent presentations.
PART TWO
Three days
Learning an accent: The teachers teach an accent to the group using the KTS structure.
Analyzing an accent: Participants work together in analyzing the accents they will present.
Presenting an accent: Participants get a go at presenting an accent that they've been working on during the workshop.
Each day will commence with a vocal warm-up.
---
Workshop Costs
VASTA  and Union Members  $850*
Non-members       $950
* if you're interested in repeating a workshop that you've already taken, contact us for special pricing deals.
In order to plan effectively for these workshops, it's important to have a clear sense of the commitment of potential participants. For that reason we ask for a deposit of $200 to secure your place in the workshop. This is due six weeks prior to the start of the workshop. The full payment is due three weeks prior to the start of the workshop. If your plans change, and you are unable to attend, we will refund any payment less $75 if you inform us ten days prior to the start of the workshop. After that date, however, no refunds are possible. Please plan accordingly.
---
Upcoming Experiencing Accents Workshops